Did you notice it? This little cold every morning in the streets of Montreal. The summer is unfortunately coming to an end. And who says end of summer, also says end of its seasonal fruits. So what a better way to take advantage of this late season to eat one last time some blueberries. Blueberries was not necessarily a fruit that I liked when I arrived in Quebec. But I learned to tame it, like in this delicious blueberries and mascarpone cake. There is no butter in this recipe. It will be replace by the mascarpone, this will allow the cake to be really moist. You need to tell me about it when you will try it!
A few words about the recipe
Eggs and sugar: Whisk them at high speed until they turn white and double in size.
Mascarpone: you will need to lightly worked the mascarpone to relax it a little bit before adding it to the mixture of eggs and sugar. Do this using a fork.
Blueberries: coat them with a little bit of flour, this will help the blueberries not to fall to the bottom of the cake batter. When you add them to the cake batter, turn them only two or three times when mixing to avoid removing all the flour.
Fermented milk: you can easily make this by adding 2 tbsp of lemon or vinegar to 100 ml of milk. Besides, you can find another of my recipe with fermented milk here.
The size of my loaf pan is: 9  » x 5  »
You will find all the measures in cups and oz on the recipe notes.
Yield: 10 slices
Blueberries and mascarpone cake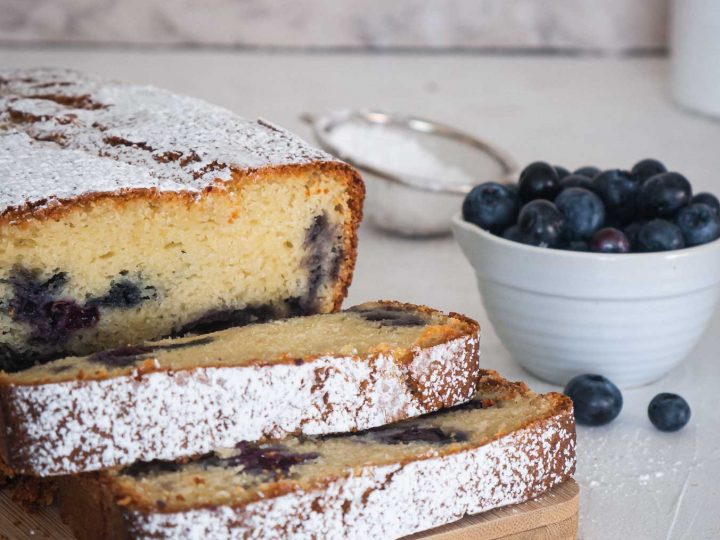 A super delicious and ultra moist cake with seasonal blueberries
Total Time:
1 hour
40 minutes
Ingredients
250 g sugar
4 eggs
225 g mascarpone
100 ml fermented milk
200 g flour + 1 tbsp
100 g almond flour
20 g baking powder
200 g blueberries
2 tsp liquid vanilla
Instructions
Preheat the oven at 180°C/ 350°F.
Butter and flour a loaf pan.
Sift the flour, almond flour and baking powder. Reserve.
Whisk the eggs and sugar on medium speed until the mixture whitens and doubles in volume.
lightly worked the mascarpone to relax it and add it to the previous mixture.
Add the flour in 2 times.
Coat the blueberries with a tbsp of flour.
Add them to the previous mixture, and incorporate them delicately using a spatula. Do 2 or 3 turns.
Bake for 1 hour. The cake is cooked when the blade of a knife comes out clean from the cake.
Unmold the cake a few minutes after taking it out of the oven and let cool on a wire rack.
Optional: when ready to serve, sprinkle the cake with caster sugar.
Notes
Cups & oz
250 g sugar = 1 1/3 cup
225 g mascarpone = 8.8 oz
100 ml fermented milk = 1/4 cup + 1 cs
200 g flour = 1 1/2 cup
100 g almond = 1 cup
15 g baking powder = 1 tbsp + 1 tsp
200 g blueberries = 7 oz
To make fermented milk, add 2 tbsp of lemon or vinegar to 100 ml of milk.
My oven is sometimes a little bit low so I recommend to start the cake after 45 min.