Want to travel?
We know that trips will not be for now. So why not to travel thanks to the kitchen! When I went to Brazil in addition to the landscapes, I fell in love with Brazilian cuisine. And this is were I discover there famous carrot cake. This is a must there and this cake will comfort you and make you travel without leaving your home. 🙂
Normally this cake is served with a brigadeiro ganache. A ganache with the taste of the national delicacy of Brazil. I find it really too sweet, so I opted for a classic ganache.
If you are interested in the brigadeiro ganache recipe, I put it below!

Little tips
The oil: I advise you to take vegetable oil which is a fairly neutral oil, and which will have no aftertaste. I do not recommend canola oil because it makes the cake taste like fried stuff.

Equipment
You will need a blender to make this cake. Indeed, all the ingredients except the flour are mixed together.

The brigadeiro ganache recipe
A box of condensed milk
3 tbsp unsweetened cocoa
1 tbsp of butter (about 15g)
250 ml (1 cup) of liquid cream
100 g (3.5 oz) chocolate

Put everything in a saucepan and stir until combined. Simmer until the mixture thickens.
Yield: 10 servings
Brazilian carrot cake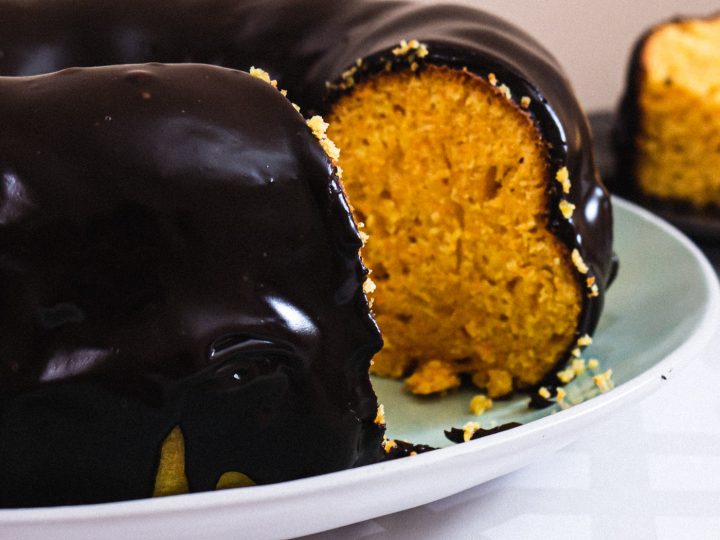 Temps de préparation:
15 minutes
Temps de cuisson:
40 minutes
Ingredients
For the cake
225 ml oil
250 g sugar
350 g carrots
4 eggs
1 tbsp baking powder
400 g all-purpose flour
Chocolate ganache
250 ml heavy cream (minimum 35%)
1 tbsp sugar (optional)
15 g butter
200 g chocolate
Instructions
Preheat the oven at 180°C /350°F
Cut into pieces the carrots and put them in a blender. Add the oil, eggs, and sugar and blend on full power.
Once everything is well mixed, transfer to a bowl then incorporate the flour with a whisk or a spatula.
Place the preparation in a buttered and floured mold.
Cook 40 minutes at 180°C /350°F
Chocolate ganache
Heat the cream and the sugar.
As soon as it boils, add the chocolate and mix well so that everything is homogeneous.
Incorporate the butter.
Once the cake cools, pour the ganache over it.
Notes
Cups & oz
225 ml oil = 3/4 cup + 3tbsp = 8 floz
250 g sugar = 1 1/4 cup = 8.8 oz
350 g carrots = 12.3 oz
400 g all-purpose flour = 3 cups = 14 oz
250 ml heavy cream = 1 cup = 8.8 floz
15 g butter = 0.5 oz
200 g chocolate = 7 oz