A few weeks ago, during a challenge on Instagram, co-hosted by A sweet point of view, a food photographer whose work I admire so much, I had the opportunity to come back to the photos of my first recipe posted on my blog, a cookies recipe. The challenge was to re-photograph one of his first photos. It had been a while since I was looking for a recipe that suited me, soft and crunchy cookies! After some research, testing, and disappointment, today I can offer you THE cookies recipe, caramel chocolate chips and nuts cookies.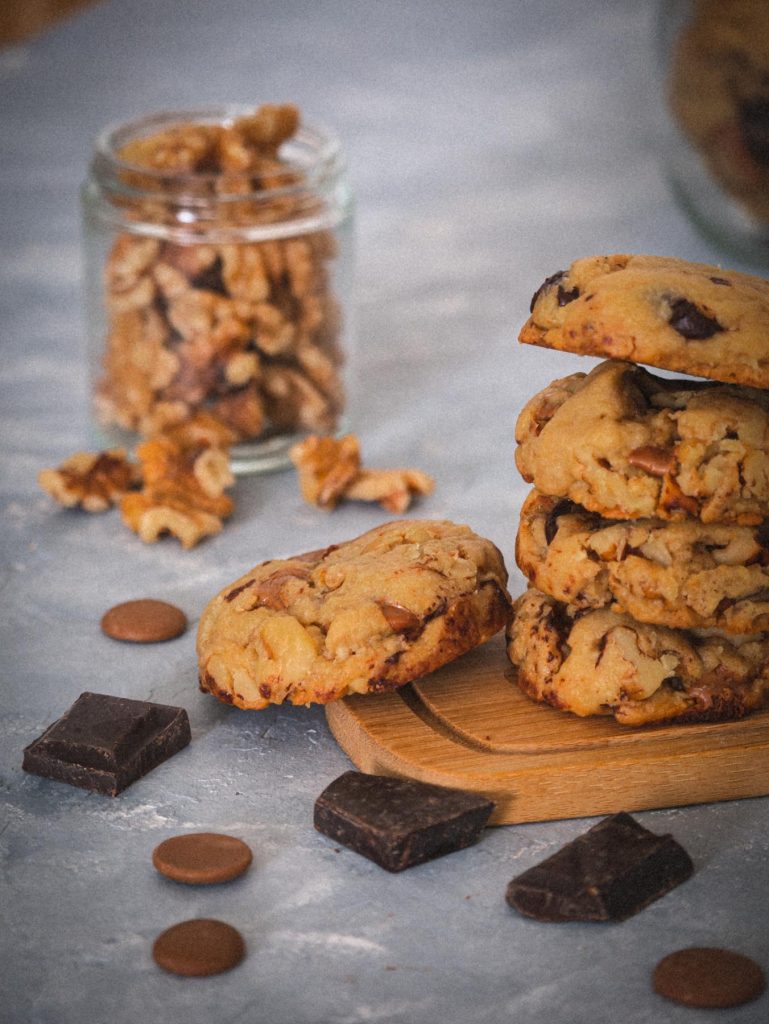 My inspiration for this recipe
I was inspired by the recipe from the Made in Clems french blog and also thanks to it, I now know how to have almost perfect round cookies! I show you the trick in the video below.
The secret for this recipe ?
There are two « secrets » on this caramel chocolate chips and nuts cookies.
The melted butter which gives the cookies softness.
Resting the dough overnight, which according to my research results in soft and crunchy cookies… And they are!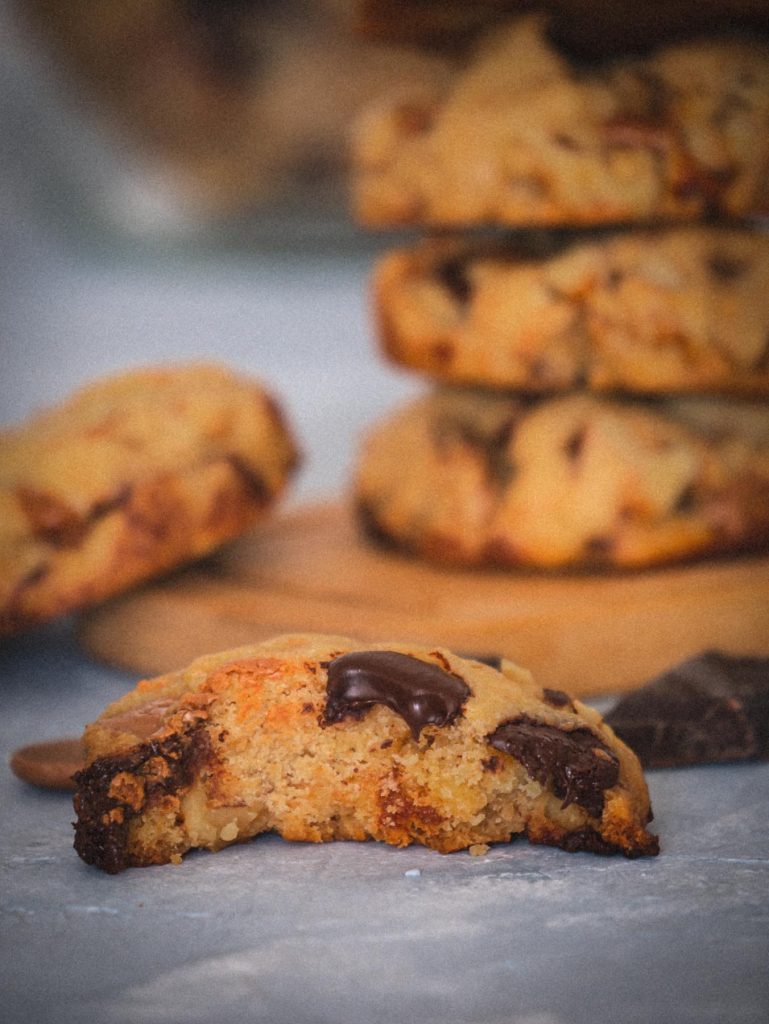 A few words on this Caramel chocolate chips and nuts cookies recipe
Roast the nuts: in a dry pan. That is, without fat and on high heat for about five minutes. This will enhance the flavors of the nuts, and give a subtle sweet toasted taste.
Nuts: take the ones that you want. On my first try I made these delicious cookies with walnuts then, another time, with pecans. Both go very well, but you can also use hazelnuts for example, treat yourself!
Butter: as indicated above this time we will melt the butter. Do this at the start of the recipe, it will give the butter time to cool a little before adding it to the sugar. For the technique, you can melt it either in a bain-marie or in the microwave. If you are using a microwave, do so in 30 second increments.
Caramelized chocolate: this is a special chocolate from my favorite brand Cacao Barry that I use for this recipe, caramelized milk chocolate.
Resting time: this time the dough is left to rest overnight.
Don't want to make all 18 cookies in one single time ?
If you don't want to make all the cookies at once, you can freeze the dough.
The technique to freeze this caramel chocolate chips and nuts cookies ?
Form the cookie balls with an ice cream scoop.
Let them firm up for about 15 minutes in the fridge (this will prevent the balls from deforming when placing them in the freezer.)
Place them in a Ziploc and put everything in the freezer.
So you can either take them all out when you want to make them or take out a few when you want a little cookie.
I recommend to keep them not more than a month in the freezer.
Yield: 18 cookies
Caramel chocolate chips and nuts cookies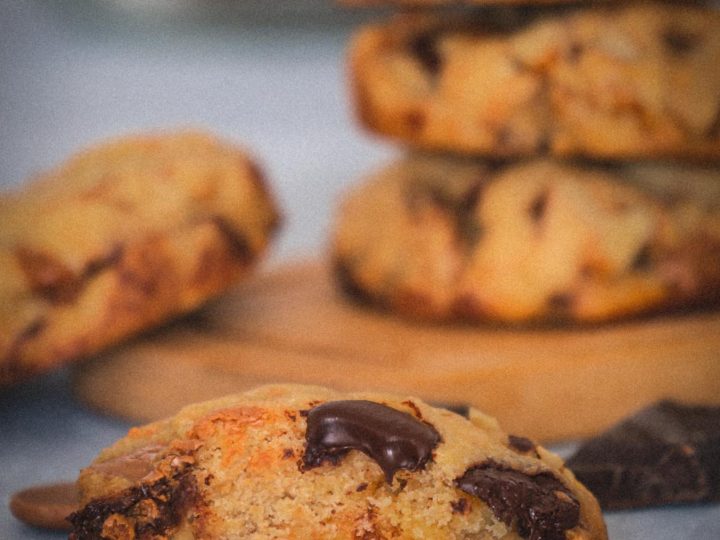 Ingredients
200 g butter
150 g brown sugar
50 g white sugar
1 egg + 1 yolk
1/2 cc almond extract
1 cc vanilla extract
300 g flour
1 cc baking powder
1 pinch of salt
100 g chocolate
70 g lacté caramel chocolate from Cacao Barry
100 g nuts
Instructions
Crush the nuts, and dry roast them for 2-3 minutes in a pan using a wooden spoon. Never stop stirring. Let cool.
Melt butter in the microwave or in a sauce pan.
Mix the butter and the sugars together, until an homogeneous mixture is obtained.
Add the egg, yolk, vanilla extract and almond extract, mix it.
Add flour, the chocolate and the nuts.
when everything is well incorporate, let the cookie dough rest overnight.
The next day, preheat the oven to 180 ° C / 350 ° F
Using an ice cream scoop or a cookie spoon, form balls of dough, place them on a cookie sheet and bake for 10 min.
Notes
Cups & oz
200 g butter = 7 oz
150 g brown sugar = 3/4 cup
50 g white sugar = 1/3 cup
300 g flour = 2 cups
100 g black chocolate = 3.5 oz
70 g lacté caramel chocolate from cacao barry = 2.4 oz
100 g nuts = 3.5 oz
If you have enough space in your fridge form the cookies with an ice cream scoop before putting them in the fridge overnight.