Being an expat is difficult sometimes. This often means being away from family and feeling lonely a few times. The events of the past few weeks and the health crisis have shaken me quite a bit.
In times like these, I just crave for one of super comforting dish that my mom knows the secret of. Caribbean cuisine is not what I do best. It was probably because I was more interested in baking than making savory dishes past in the days.
With that in mind, last week, I craved for plantains. I normally eat plantains like a vegetable, with fish for example. Then I thought, why not make a cake with it! And that is why I am offering you today a plantain bread recipe.
About the recipe
Plantains: You will have to wait until the bananas are fully ripe, that is to say almost black, before you can use them.
For the mixture of banana and coconut milk, I invite you to use a blender to roughly mix everything. You can of course do this by hand. The work will just take a little longer and can be more tedious 😉
I added some chocolate chips to it. But it's optional. I can't help but add chocolate to all of my baked goods right now.
When adding the banana and flour mixture, the ingredients may separate and form like small lumps. Do not panic ! Everything will return to normal with the addition of the flour. You just have to be careful that the flour will be the last element you add. You can take your eggs out a bit ahead of time, it can prevent this from happening.
The plantain bread is baked when a clean knife comes out of the cake. Or just with traces of chocolate if you add it.
Yield: 10 servings
Plantain Bread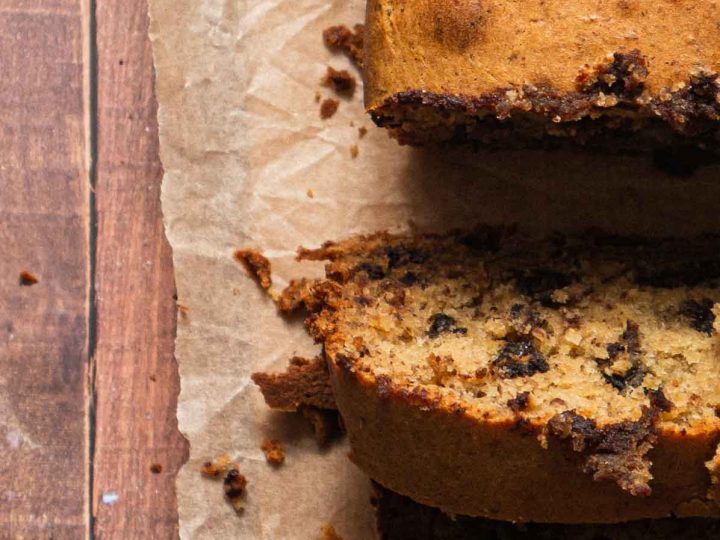 Total Time:
1 hour
15 minutes
Ingredients
250 g all-purpose flour
2 plantains
125 ml coconut mikl
120 g de beurre
110 g sugar
2 eggs
1 tsp baking powder
1 tsp baking soda
150 g chocolate chips (Optional)
Instructions
Preheat the oven to 180°C/350°F.
In a first bowl, combine the flour, baking powder and baking soda, Set aside.
Mash the plantain with the coconut milk until you get a smooth puree. You can also put them throw the mixer. Set aside.
Cream the butter and sugar and add the eggs one by one.
Add the plantain mixture and the flour mixture alternately. Finish with the flour mixture.
At this step the ingredients can separate, but once all of the flour has been incorporated there should be no more.
Put the preparation in a buttered and floured mold.
Cook for 1 hour at 180°C/350°F
Notes
Cups and Oz
250 g flour = 1 3/4 cup = 8.8 oz
125 ml coconut milk = 1/2 cup = 4.2 floz
120 g butter = 4.2 oz
110 g sugar = 1/2 cup + 1tbsp = 3.9 oz
150 g chocolate chips = 5.3 oz
Tips :
Wait until the plantain are black before using them