It is with some emotion that I share with you the first recipe of this blog … A recipe of chocolate chip and nuts cookies, something simple, almost quick, because there is still 1 hour of rest. Perfect for a snack or to do as an activity with the kids on the weekend.Nuts for more gluttony …
Nuts for more gluttony …
These chocolate and nuts cookies are crunchy on the outside and soft on the inside.
When I made this recipe, I used walnuts and hazelnuts. But you can use whatever nuts you have on hand.
If you don't have some, add more chocolate 😉 (0.44 lbs).
What I use for this recipe
I usually use a stand mixer to make this recipe. But if you don't have some, you can still use the old wood spoon and a bowl. And follow the same steps.
Yield: 20 cookies
Chocolate chips and nuts cookies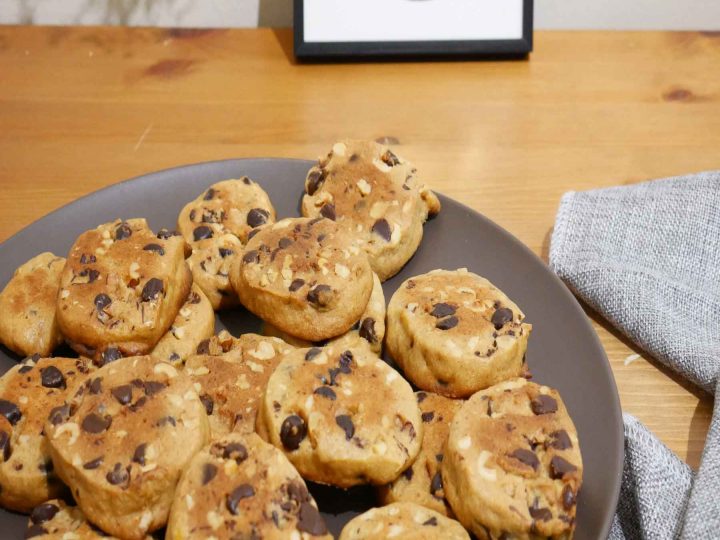 Ingredients
300 g all-purpose flour
170 g butter
150 g chocolate chips
1 pinch of salt
1 tsp vanilla extract
150 g dark brown sugar
1 egg + 1 yolk lightly beaten
100 g nuts
1 tsp baking powder
Instructions
Mix together butter and sugar until it forms a cream. Add the eggs and mix until incorporated.
Add the flour, baking powder and a pinch of salt. Mix until incorporated then add the chocolate chips and nuts.
Form a roll of dough, and put it in plastic wrap. Place it in the fridge for 1 hour.
Preheat the oven to 180°C / 350°F.
Cut the roll into slices of about 2 cm and put in the oven for 10/15 minutes.
Notes
If you do not have any nuts, you can replace it by 7 oz of chocolate chips.
Cup & oz
300 g all-purpose flour = 2 cup + 1tsp = 10.6 oz
170 g butter = 6 oz
150 g chocolate chips = 5.3 oz
150 g dark brown sugar = 3/4 cup
100 g nuts = 3.5 oz