I talk about this blog to a few people, and when I says a few it'S like 2 people. While chatting with a friend in France about y project she kindly whispered in my ear: « Why don't you try to mix the flavors of the French West Indies with that the ones of Canada ?! A bit like fusion cuisine… This idea stuck very wisely in the back of my mind.
That's how I wandered, through the frozen sweets section of my grocery store, that I came across some ice cream sandwiches.
The image of these desserts in my head as I tried coconut sorbet recipes made me think. Why not create a coconut sorbet sandwich. A generous coconut-flavored scoop between two milk chocolate chip cookies with a little almond taste… In my head, it seemed very interesting and super delicious. Neither one nor two, I wanted to experiment.
About the recipe
I use to do the coconut sorbet the day before making this ice cream sandwich best time is to let it freeze all night
For the cookies I use to take the Alunga milk chocolate. This chocolate is in pistols so much bigger than regular milk chocolate chips and so delicious !
To be able to do the sandwich let the sorbet cool a little bit down before make them. It will be easier to make scoops of coconut sorbet.
Once everything is set up, eat it right away cause' it melt really fast, especially in summer time.
Yield: 10 Sandwiches
coconut sorbet sandwich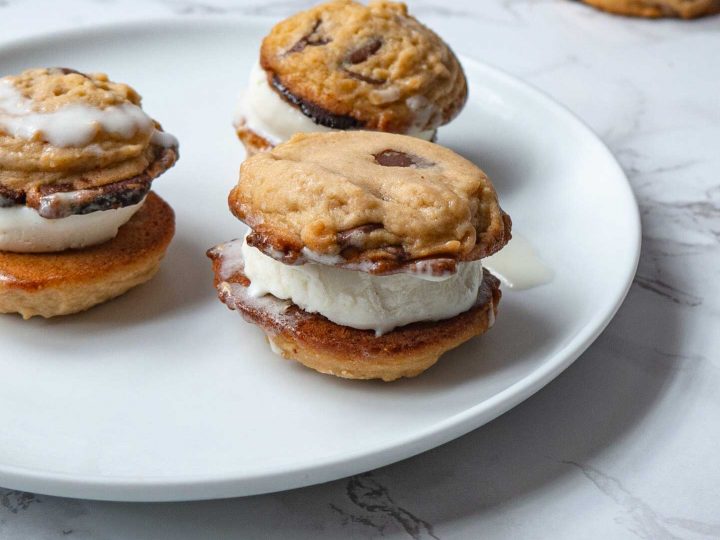 When the French West Indies meets the North american
Temps de préparation:
30 minutes
Temps de cuisson:
10 minutes
Total Time:
8 hours
40 minutes
Ingredients
Cookie dough
170 g softened butter
170 g sugar
280 g flour
2 eggs
150 g milk chocolate chip
1 tspn almond extract
1 pinch of salt
1 cc baking powder
For the coconut sorbet
200 ml coconut milk
200 ml heavy cream
200 ml condensed milk
1/2 tspn cinnamon
1/2 tspn almond extract
1/2 tspn nutmeg
1 tspn lime zest
Instructions
Prepare the coconut sorbet the day before
Whip together the coconut milk and the heavy cream until it forms a whipped cream.
Add condensed milk and spices.
Place in an airtight container, in the freezer overnight.
Cookies dough
Mix together the butter and sugar, until it became like a cream.
Add the lightly beaten egg, mix.
Once the mixture is homogeneous, add the flour, baking powder and salt.
When the mixture begins to have a paste consistency, add the milk chocolate.
When everything is well incorporated, form balls with a tablespoon or a small cookie spoon.
Bake 10 min. Or until edges are cooked.
Let cool completely.
When you are ready to serve
Place a scoop of coconut sorbet on a cookie and flatten with another cookie.
Enjoy immediately
Notes
For the chocolate chip I used to take the Alunga milk chocolate from Cacao Barry (link in the post). Because the chocolate pistols are bigger than regular chocolate chip.
Measure in cups/lbs/oz
170 g butter = 0.4 lbs= 6 oz
170 g sugar = 0.4 lbs = 6 oz
280 g flour = 2 cups = 9.9 oz
150 g = 0.33 lbs = 5.3 oz
200 ml coconut milk/cream/condensed milk = 3/4 cup + 1tbspn