Please, note that English is not my first language, if you see some errors just kindly tell me in the comment section 🙂
There are mornings like this …
You just woke up, and the only thing that you crave for is fresh toast with peanut butter and jam. When you get that bread, that for you it's just been there yesterday, and you realize that this is hard like concrete. The fresh toast will not be for today.
It's because this kind of event that I show you today a recipe of overnight french toast. Because the bread is really hard, you need it to soak it all night in the mixof milk and eggs.
Make this recipe your own !
You can add any spices or extract that you want. Make this recipe with your favorite flavors. Vanilla, almond extract. Nutmeg instead of cinnamon. The possibilities are endless !
The recipe is very easy to make, the longest thing here is to wait until the day after 🙂
Here how to make this delicious french toast.
Yield: 6 pieces
Overnight French Toast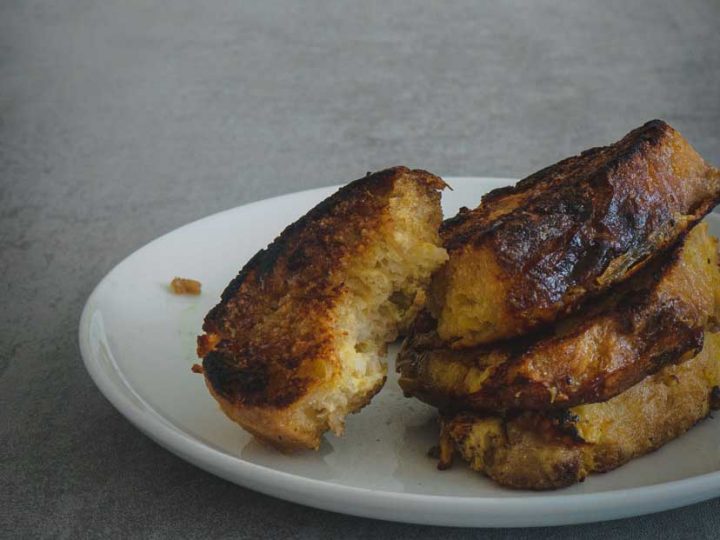 This French toast will be perfect for your late weekend breakfasts.
Temps de préparation:
10 minutes
Temps de cuisson:
20 minutes
Total Time:
8 hours
30 minutes
Ingredients
6 slices hard bread
300 ml milk
3 eggs
3 tbspn sugar of your choice
1 tspsn liquid vanilla (Optional)
Instructions
Mix together the milk, eggs, sugar and vanilla.
Put the bread slice in a deep dish and pour the mixture on it.
Let rest all night in the fridge.
The day after, cook the french toast in a pan grease with butter. in a medium high heat. Cook until each side is brown.


Notes
Measurement in cups :
300 ml milk = 1 1/4 cup milk
Feel free to add some spices like cinnamon, or other extract make this recipe your own. If you do so, add it when you mix the eggs and the milk together.
In my recipe I put Marple syrup. If you take an other sugar, be aware that this one could be more sweet that the one I used so dose the quantity accordingly.