A few weeks ago, I found back an old baking book. I think this is one of the first baking books I bought. It was very helpful, even if i think that it lacks a bit of explanation. Especially for someone new to baking and looking for a book with a set of basic recipes that covers all occasions. Unfortunately, I do not know if this book was edited in english also I'm not sure that is still available in french. If you pass by and you're understand french I can still give the information about this book.
So let's talk a little bit about our recipe
So thanks to this book, I wanted to try to make madeleine (I hope this is the good translation). This « cookies » are very common in France, and I can easily find it here in Montréal. But as I say multiples times in a day, there is not such better things that doing your own baking :). You will be able to control what you put in your cakes and you will be so proud to make it by your own !
After several try, I found what it works for me in terms of ingredients.
Some words about the recipe
Put the batter in the fridge help to form the little bumps. But if you are in a rush, you can skip this step.
For this recipe I use my strawberry jam recipe. Bu you can take any jam of your choice 🙂
You can also put some chocolate instead of the jam to change a little bit.
You will find equivalent in cups, lbs and oz on the note section at the end of the recipe.
Yield: 20 madeleines
Madeleine with jam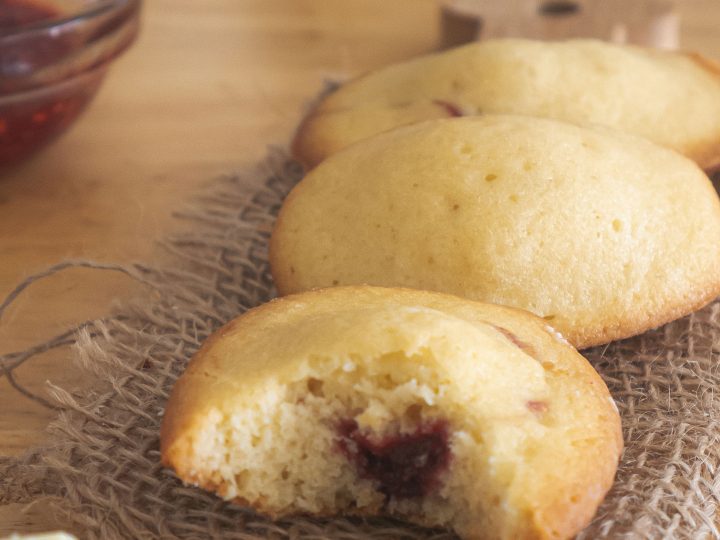 Go back in time with this delicious madeleine with jam of your childhood.
Temps de préparation:
15 minutes
Temps de cuisson :
10 minutes
Total Time:
2 hours
25 minutes
Ingredients
2 eggs
90 g sugar
1 tspn liquid vanilla
10 g vanilla sugar (1 packet)
1 pinch of salt
150 g all-purpose flour
130 g unsalted softened butter
1 tspn baking powder
Instructions
Let cool the butter the day before on the counter.
Sift the flour and baking powder. Set aside.
Whip at high speed the sugar, eggs until until they turn white and start to increase in volume. Add the vanilla, whip again until it's totally incorporated.
In a bowl, sift together the flour and baking powder and fold into the previous mixture in 3 batches. Work the butter until it has a creamy consistency and stir it in 2 or 3 batches.
Mix well. Leave the dough rest for 2 hours in the fridge. Then preheat the oven to 180 ° C / 350 ° F. Butter and flour a madeleine mold.
Take out of the fridge the batter and work it using a spatula to soften it a little. Put the equivalent of a teaspoon in the mold, then the equivalent of 1/2 teaspoon of jam and then the equivalent of 1/2 teaspoon of batter on top of the jam.
Cook around 10 minutes or until edges are golden brown.

Notes
Allowing the batter to rest in the fridge allows the bumps on the madeleines to swell more. But if you are in a hurry, you can skip this step.
Measure
90 g sugar = 2x 1/3 cup = 0.20 lbs= 3.2 oz
10 g vanilla sugar - 1 individual packet = 0.3 oz
150 g all-purpose flour = 1 1/4 cup = 0.33 lbs = 5.29 oz
130 g butter = 0.28 lbs = 4.6 oz