A strawberry jam recipe so quick and easy that you'll have no excuses for not making your own jam in the future. In addition, it is low in sugar, what more could you ask for!
The ratio that I use
For my jams I use half the weight of the fruit in sugar.
About the recipe
I usually take frozen fruits, are like this they are available all year long. I just I thaw them before cooking them. It is really quick something like 20 minutes.
To see if your jam is ready, do the plate test. Explanation in the recipe 🙂
Do not go to far from you jam as it can burn really quickly.
Yield: 1 jar
Strawberry Jam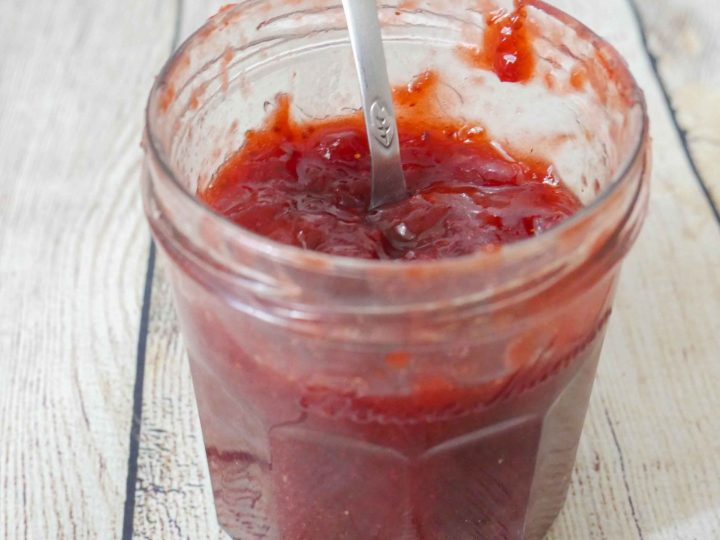 Temps de préparation:
10 minutes
Temps de cuisson:
15 minutes
Ingredients
350 g frozen strawberries - or raw
175 g sugar
Instructions
Let the strawberries defrost in a pan with the sugar.
Cook on low heat around 15 minutes. Stay around to take a look.
Put a plate in the freezer
After 15 minutes, take a drop off the jam and put it on the plate that you let in the freezer. If the drop freeze the jam is ready. If not keep cooking. and check the jam every 10 minutes.
When the jam is ready, add a knob of butter. Mix until the butter is incorporated. Then put the jam in a jar and place them upside down until it's totally chill.
Notes
Cup & oz
350 g strawberries = 12.34 oz
175 g sugar = 3/4 cup + 3 tbspn = 6.2 oz