Temperatures are rising and what better way to cool off than a good lemonade with strawberries and maple syrup from Québec.
Today I offer you an easy and quick recipe for a thirst-quenching and slightly sweet drink.
As a bonus, the recipe on video! 😊
About the recipe
Fell free to adjust the sugar if you would like something more or less sweet.
Once it's done you can keep this lemonade up to 3 days. I never taste it to keep it longer.
Yield: 1 L
strawberries and maple limonade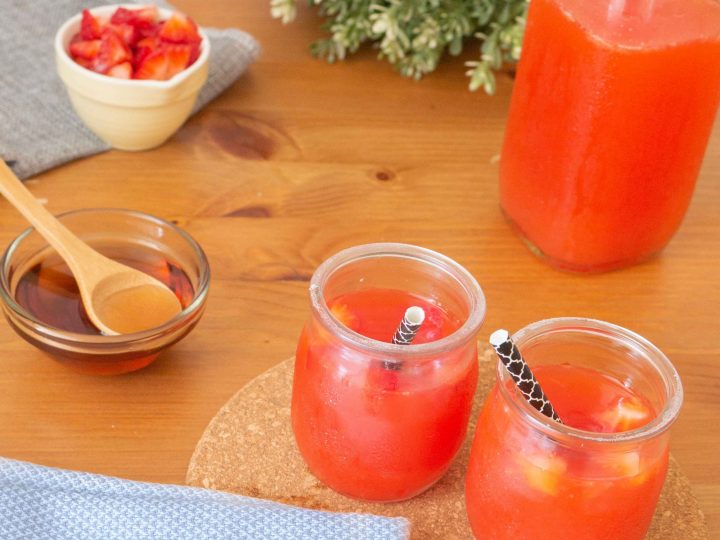 Temps de préparation:
15 minutes
Ingredients
450 g strawberries
180 ml lemon juice, around 4 lemons
125 ml maple syrup
250 ml water
750 ml still or sparkling water
Instructions
Stem and cut the strawberries.
Squeeze the juice from the lemons and set aside.
In a blender, put the strawberries, maple syrup and 250 ml of water, then blend everything
Filter the juice obtained to remove the grains.
Put the strawberry juice and lemon juice in a container and stir.
Add water and put in the fridge for a few hours.
You can add maple syrup if desired.
Notes
Cups & oz
450 g strawberies = 18.9 oz
180 ml lemon juice = 3/4 cup = 8.4 floz
125 ml = 1/2 cup = 4.4 floz
250 ml water = 1 cup = 8.8 floz
750 ml water = 3 cups = 15.8floz