Sweet potato in a cake?

I love the sweet potato. I'm used to eating it fried or mashed. But when I forgot it in the cupboard I often wonder what I'm going to do with it to change things up a bit from the dishes I usually make.
I had already heard of the sweet potato cake, it is a cake that came from the reunion. Since I can not help myself but put chocolate all over the place, the chocolate and sweet potato cake was born!
This dessert is really very melting and strong in chocolate. For more indulgence I added a melted dark chocolate topping. But nothing prevents you from adding your personal touch and adding a milk chocolate ganache, fruit … Let your imagination run wild and put your personal touch on this chocolate and sweet potato cake.
About the recipe
The 550 g of raw sweet potatoes represented for me 2 large sweet potatoes.
If you melt your chocolate in the microwave, do so by 30 second intervals. To avoid burning the chocolate.
The cake is better once it has been in the fridge for a few hours so if you have the patience, wait a bit before tasting it 🙂
Yield: 8 servings
Sweet potato chocolate cake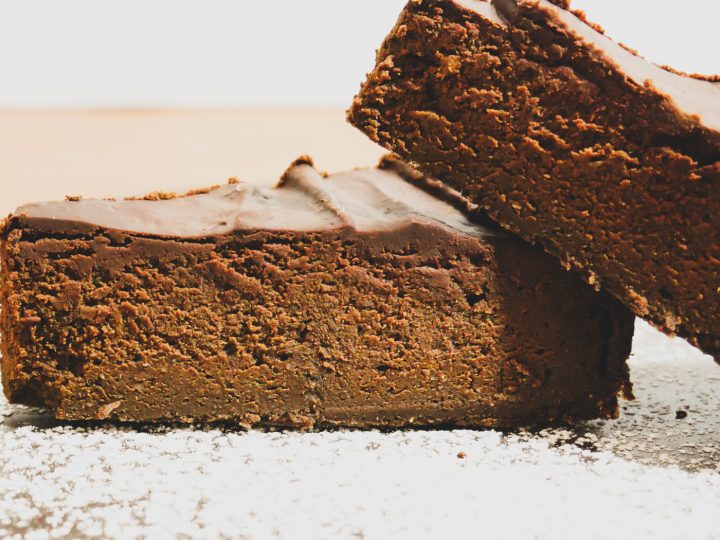 A delicious cake gluten and butter free
Temps de préparation:
35 minutes
Temps de cuisson:
30 minutes
Total Time:
1 hour
5 minutes
Ingredients
550 g raw sweet potatoes
230 g chocolate
100 g sugar
3 eggs
45 g almond flour
45 g cornstarch
1 tsp unsweetened cacao powder
1 tsp cinnamon
1 tsp vanilla
Topping
Instructions
Cook the sweet potatoes in boiling water for about 20 min. You'll know they're done when you can easily stick a fork in them.
Once it's cooked, smash it and set aside.
Preheat oven at 180 °C/340°F
Melt the chocolate in a bain-marie or in the microwave and set aside.
Mix the eggs and sugar together until the mixture become white.
Add the mashed sweet potatoes, the chilled melt chocolate, and flour
Put all the mixture in a buttered and floured mold and cook for 30 min.
For the Topping
Melt the chocolate and put it on the cake.
Notes
The cake is better when it spend some time in the fridge or eaten the day after.
Measure in cups and pounds :
550 g raw sweet potatoes = 16 oz
230 g chocolate = 8.8 oz
100 g sugar = 1/2 cup
45 g almond flour = 1/2 cup
45 g cornstarch = 1/3 cup + 1 tspn
For the topping
120 g chocolate = 4.2 oz