When I first heard the word aquafaba I thought it was a trendy new drink. But not at all ! After doing a little research, I found out that it was an egg substitute. Very often used in vegan baking or by those allergic to eggs. Everything I read ensured that you couldn't tell the difference between egg white and aquafaba. Curious culinary that I am and who loves to try new things, I had to try!
What is auqafaba ?
It is simply the juice of leguminous plant , tthe water that we can find in our chickpeas or red beans can.
How to use it ?

It's easy, either we collect the water in the can or we make it and turn it into snow like eggs.

How do you make aquafaba?
Nothing too complicated, it's just a bit long:
Soak the chickpeas at least overnight in water (12 h)
The next day we rinse everything and cook it between 1h30 to 2h. Usually it will be 1 part chickpea (or other legume) and 2.5 part water. .
Once cooked, we collect the water. And it's ready!

The conversation
Chickpea water will keep for about a week in the refrigerator in an airtight jar.
About the recipe
Here I give you a recipe for two small portions. (We're not a lot at home) and I didn't want to overdo it in case the gentleman or I didn't like it. It is therefore entirely possible for you to double or triple the recipe.
So what does this recipe give?

I'll be honest with you, I made this vegan chocolate mousse recipe blindly, based on the original chocolate mousse recipe … And the surprise was good! I really didn't expect this result. The texture is really stunning and you don't feel like chickpeas at all, I would even say that the chocolate taste is more intense with the aquafaba mousse. On the other hand, I still feel a difference in taste compared to a classic chocolate mousse. But then again I wonder if it's not the strength of the chocolate that I feel more. So, if you are egg intolerant, vegan, or just have run out of eggs in your cupboard, try this vegan mousse recipe and let me know what you think!
Yield: 2 servings
Vegan chocolate mousse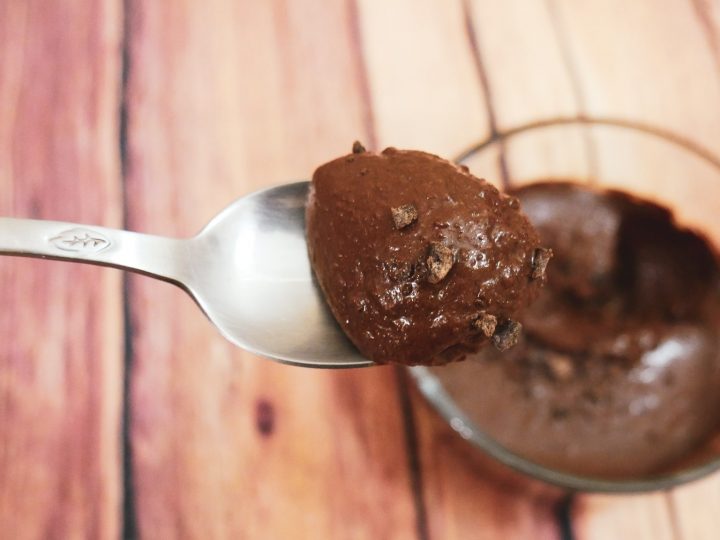 Running out of eggs? You will not need to make this delicious chocolate mousse
Temps de préparation:
15 minutes
Temps de repos:
30 minutes
Ingredients
80 g cheakpea water
80 g chocolate
Instructions
Melt the chocolate in the microwave or in a double boiler
whip up the chickpea water.
Mix the cooled chocolate to the whip up chickpea water.
Let it cool 30 minutes in the fridge before eating.
Notes
Measure in oz
80 g cheakpea water = 2.8 oz
80 g chocolate = 2.8 oz